INTRODUCING
Healthy @ Home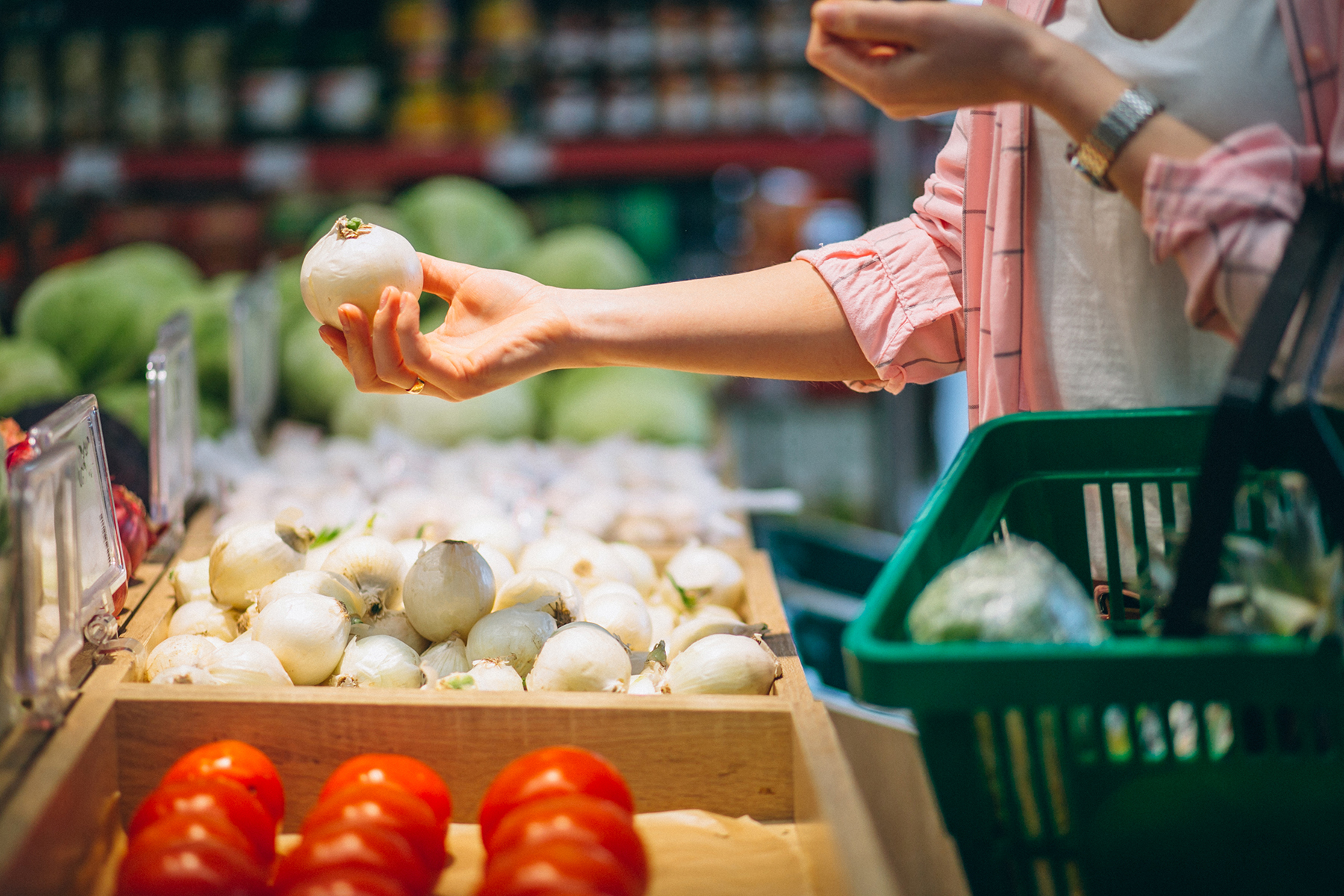 Seclusion Sustenance
Walking through the grocery store these days can be frightening—barren shelves, shortages on a number of foods (unless you're vegan—judging from the full stock of vegan products, they seem to be the only ones not in panic mode), and people fighting over Eggo Waffles. True story.

Our world became a different place almost overnight.

But don't fret. Meal-prep during the quarantine doesn't have to be canned beans and chili cooked over a camp stove. While it may take a little more creativity and preparation in the grocery store, it is still possible to eat healthy, nutritious meals while locked in the house for the untold future. And it's more important than ever because a balanced diet rich in fruits, veggies and whole grains is key for a strong immune system!
More advice for healthy eating @ home
6 Tips for Eating Mindfully
We've all been told time and again of what to eat, but did you know that it is just as important to understand how you eat? It's easy for us to fix a quick meal and sit in front of the television or computer and eat. The problem with this behavior is that not only can this take away from the pleasure of eating, but it can also add unnecessary inches to your waistline. Mindful eating can improve your entire eating experience.
Eliminate external distractions
Leave your cell phone, tablet, computer, and television off and away from your eating space. These constant distractions prevent you from giving your full attention to your meal and often interfere with recognizing feelings of fullness and hunger.
Experience your food from every angle
Take the time to really SEE and SMELL your food. Does it give off a pungent odor or a hint of a particular spice? Let the food remind you of life's moments. Allow each moment to overwhelm you and to be a part of your meal.
Eat slowly
It takes the body and brain about 20 minutes to communicate sensations after taking that first bite of food. By slowing down to savor your food, you are allowing your body to feel full and for your brain to tell you when enough is enough.
Chew thoroughly
Chewing your food is an important part of not only being mindful, but also for allowing the body to begin the digestive process. One helpful tip is to set down your eating utensils after each bite and focus on chewing rather than on your next bite.
Enjoy your eating environment
While you enjoy your food, why not also enjoy your company and surroundings? Look around you. Are you surrounded by loved ones? Maybe you are eating alone and have the opportunity to sit in peace. Spend time to reflect on each piece that makes your meal special.
Show gratitude
Reflect on the joy you feel from having time to yourself or the comfort you feel from having a loved one nearby. Above all else, always show gratitude for the food you've been given. Be thankful for its nourishment, for its warmth, for its flavor, for its smells, and for the moments you've been given to enjoy it.
Easy Italian Soup
Customize using the ingredients you find in your pantry or fridge. Vegetarian, vegan, and gluten-free friendly.
Saute the vegetables you have on hand in a little olive oil until soft (1 onion, 3 gloves garlic, 2 carrots, 2 celery stalks). Other ideas: cauliflower, green beans, and zucchini.
Add in a can of diced tomatoes and 1 tbsp of Italian seasoning. Have some tomato paste? Add it in!
Add 6-8 cups of vegetable or chicken broth.
Add in 1 cup of your grain of choice such as brown rice, whole wheat orzo, quinoa, or whole wheat pasta and simmer until cooked.
Add in 2 cups of greens such as kale or spinach and wilt for a couple minutes.
Want to add some protein? Add a can of beans, precooked mini meatballs, or poached eggs.
Enjoy with a sprinkle of parmesan cheese or fresh herbs like basil or parsley if you have some.
Do you have our app?
Download the incentaHEALTH app for workout videos, guided meditations, cardio audio guides, daily meal ideas, and more.
Follow Us.
Follow us for fun health content, updates and to connect with others on the same health improvement journey.